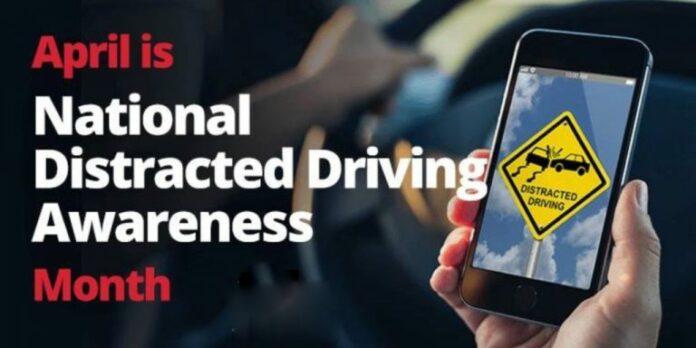 April is Distracted Driving Awareness Month and with the summer approaching and more cars on the road, State Farm is reminding drivers to put the phone down and keep your eyes up.
New drivers are often taught to be "defensive drivers" when taking to the road for the first time. A defensive driver is alert, prepared and in control of their vehicle despite outside distractions such as the weather, time of day and/or other drivers.
While drivers react to outside influences, they should eliminate distractions in the car. Eating, drinking, talking with passengers, diverting their attention to the radio, entertainment, or navigation systems, and using a cell phone to text, talk or lookup information.
Of course, not every trip will involve passengers and not every vehicle is equipped with entertainment and/or navigation systems. However, cell phone ownership is ubiquitous amongst 99% of all drivers.
A recent State Farm Survey examining attitudes and behaviors around distracted driving indicated that nearly three quarters of drivers have ready access to their phone. Indeed, cell phone usage such as texting can lead to deadly consequences. The 
National Highway Transportation Safety Administration (NHTSA)
 reports that distracted driving claimed the lives of 3,522 in 2021; each one having been preventable. Sending or reading a text, can take your eyes off the road for five seconds which when driving at a speed of 55 mph can cover the length of an entire football field.
The State Farm Survey shows that cell phone usage is not limited to teens and young adults and with smart phones, talking and texting. The study dealt with self-reported behavior of licensed drivers. Cell phone usage by drivers under the age of 50 indicated:
52% read or send text messages
43% interact with apps
32% watch videos
28% record videos
The percentage of cell phone usage among those under the age of 50 is eye opening coupled with the fact that 43% of those distracted drivers tend to drive faster than others. In general, drivers who admitted to manually interacting with their cell phones while driving were nearly twice as likely to report being involved in at least one crash that occurred when they were distracted while driving.
Distracted driving is preventable, put the phone down and keep your eyes up and on the road. It could save your life and the life of a loved one. In addition, it reduces the chances of getting in a collision or even a ticket.
Passengers are encouraged to speak up and advocate for their own safety. Say something if you feel unsafe. Encourage friends and family to put their phones down and speak up as well.
Additional Resources:
About State Farm®:
For 100 years, the mission of State Farm has been and continues to be to help people manage the risks of everyday life, recover from the unexpected, and realize their dreams. State Farm and its affiliates are the largest providers of 
auto
 and 
home
 insurance in the United States. Its more than 19,400 agents and approximately 61,764 employees serve over 91 million policies and accounts – which includes auto, fire, 
life
, 
health
, commercial policies and 
financial services
 accounts. 
Commercial auto insurance
, along with coverage for 
renters
, 
business owners
, 
boats
 and 
motorcycles
, is available. State Farm Mutual Automobile Insurance Company is the parent of the State Farm family of companies. State Farm is ranked No. 42 on the 2022 Fortune 500 list of largest companies. For more information, please visit 
http://www.statefarm.com
.​