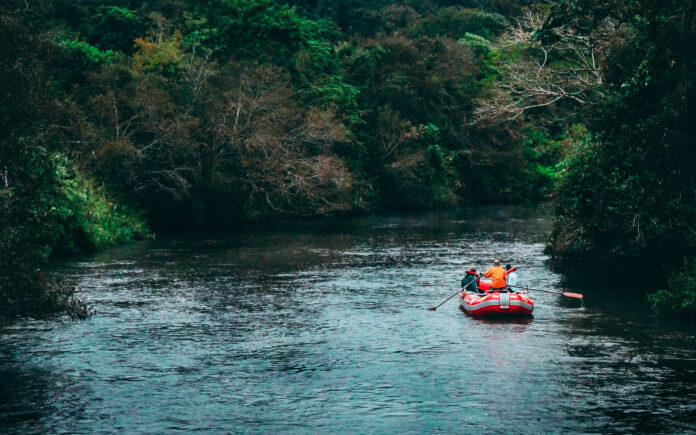 "You're just trying to kill me," our granddaughter responded when we announced that we would be river rafting during our trip to Colorado Springs, Co. My assurances that fun, not death, was the goal did little to assure her. In fact, she worried constantly—until we passed through the first group of rapids at which time she announced, "This is awesome!"
We were on our our annual family vacation with our children and grandchildren, this time to Colorado. Since we had never been river rafting, this adventure was top on our list. I did not trust making reservations in line—I had too many questions. After reading reviews of various companies, I called Echo Canyon River Expeditions in Canon City. Keeping in mind that our group included very worried children—and adults—my intention was to book the Scenic Float, the easiest experience. Thankfully, the Echo Canyon reps talked me into the Bighorn Sheep Canyon trip instead. (They listened carefully to my concerns and gave the option of changing to the gentler trip when we arrived.)
We arrived ready with our bathing suits, sunscreen, and sense of adventure—along with mounting tension on the part of a few in our group. We boarded the bus where our guide gave us all the warnings. (She did clarify that the same warnings were given to everyone
no matter if they were doing Class 1 (easy) or Class 5 (difficult) rapids, but our kids were scared.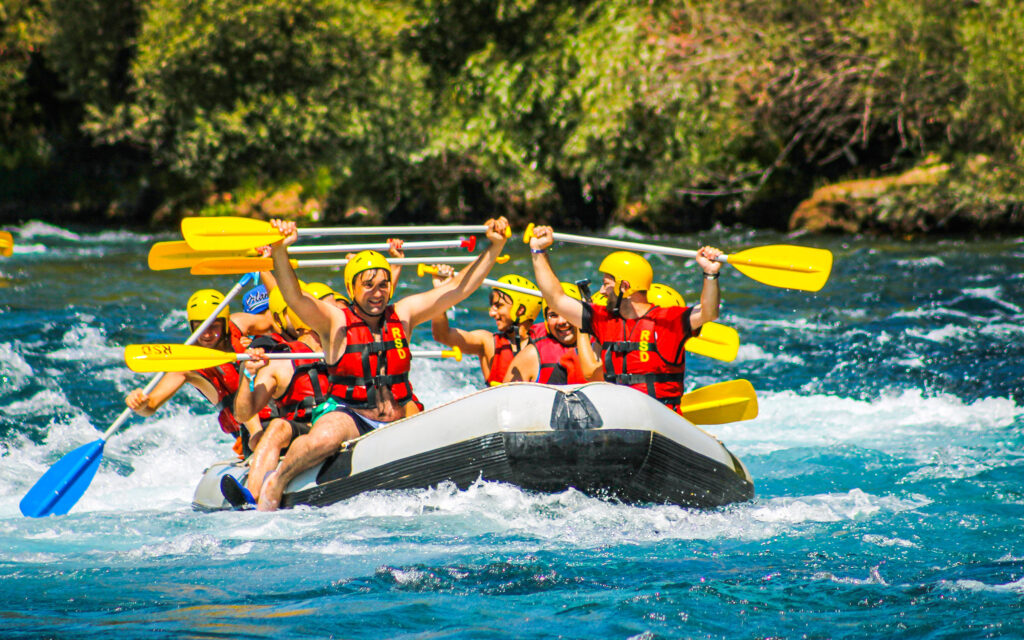 Our kind bus driver dropped us off at our put in spot and we were soon in the boat and on our way down the Arkansas River. The first rapid was a Class 1 to let us practice our strokes and listening skills. Jenae, our guide, seemed confident that we would not die and we continued downstream. The first Class 2 rapids turned the attitudes of our entire party from, "I'm going to die," to, "This is amazing!" The Class 3 rapids made everyone yearn for the next voyage.
Our trip was amazing as we went through Class 1, 2, and 3 rapids. We only got in the water at a planned break. In other words, no one fell out and we made the afternoon trip without anyone dying or even getting hurt, except for one oar that broke after hitting a rock too hard. In fact, the activity was voted the favorite outdoor activity of the trip.
We returned to the headquarters and sat outside at the 8 Mile Bar and Grill eating great salads and burgers while waiting for our pictures to show up on the screens. (They advise against taking cameras and phones on the trip because of the chance of losing them. They use go-pros and cameras to provide great pictures and videos at the end—for a price, of course.)
Would I recommend this adventure for multi- generational family trips? Definitely, and we plan to make it a part of any trip near white water rafting rivers.
If you are a river rafter, please share your favorite rivers and why. Please help us plan our next vacation!
– Candace Ahlfinger has loved traveling since she was little and has always been on the go whenever possible. Now she is retired and gets to do what she loves best… TRAVEL! Whether it's traveling with her wonderful husband, or our children and grandchildren, traveling is a great experience that enriches her life. Because she always enjoys reading and hearing about others' travel experiences, she wants to share her travels with the Ellis DownHome readers.