We began our vacation by researching places to go with the following stipulations:
We could drive.
We could have fun on the way.
We would have fun while we were there.
We wouldn't break the bank going for a few days.
We wanted an art-filled experience.
What we discovered was Santa Fe, an art-filled adventure that would provide a fun time for us all. After assigning a 9-year old, a 38-year old, and a 45-year old a day each to plan for the adventure, we ended up with a variety of activities that would make everyone happy, a very difficult thing to do.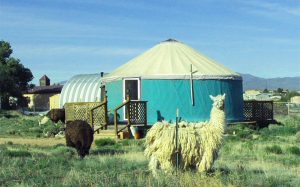 We started by staying at Bill's yurt on a llama farm. It ended up being a little more rustic than what we had envisioned; however, after our stay we have already talked about returning. Picture a little yurt on a llama farm with one major living area, a compost toilet, and llamas, very opinionated llamas. That is what the Enchanted Yurt was all about, along with beautiful scenery and quiet mornings watching the sun rise.
While in Santa Fe we visited a few "Must See" stops including Meow Wolf, an immersive art experience, Canyon Road, the historic arts district, the Museum of International Folk Art, and the Plaza while also fitting in some art classes and amazing margaritas from the margarita trail list.
One of our first stops was a fluid art family-friendly paint class where we all got to try our hand at fluid acrylic pouring. Later in the week we also got to experiment with pottery at Green River Pottery. This two-hour class allowed us the adventure of trying to create something on a potter's wheel. The instructors were patient and enjoyed telling my daughter she didn't have to have formal training to create art. The most amazing thing was getting our art creations weeks later in the mail. It made us feel as if we were true artists.
This art-centered town offered unique opportunities at every stop for artists to shop, create, or take pictures along random roadsides. Our favorite picture stop was the Santa Fe mural on the wall of Warehouse Twenty-one Community Arts Space in the Railyard District. We topped this photo op off with dinner at La Choza.
Don't forget one of the things that makes Santa Fe popular is the margarita trail, and now we understand why. Download the app and check in as you try margaritas around town to make your adventure even more fun.
Our long-weekend trip was fun for the whole group and one that we recommend to anyone.