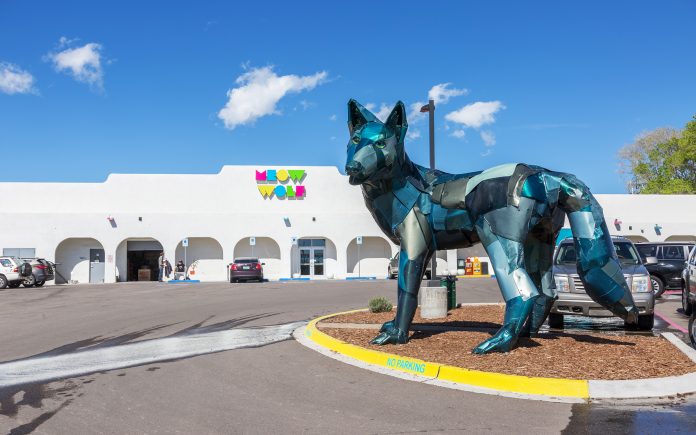 No trip to Santa Fe would be complete without a visit to Meow Wolf. Meow Wolf is ranked in the top 10 immersive art exhibits in the world.  When you walk in you are met with a skating-rink feel with lots of neon accessories and creativeness around every corner. This feel is appropriate as their website explains Meow Wolf is the brainchild of 100s of artists in the area and is sponsored by George R.R. Martin who purchased a skating rink and converted it into this immersive art museum.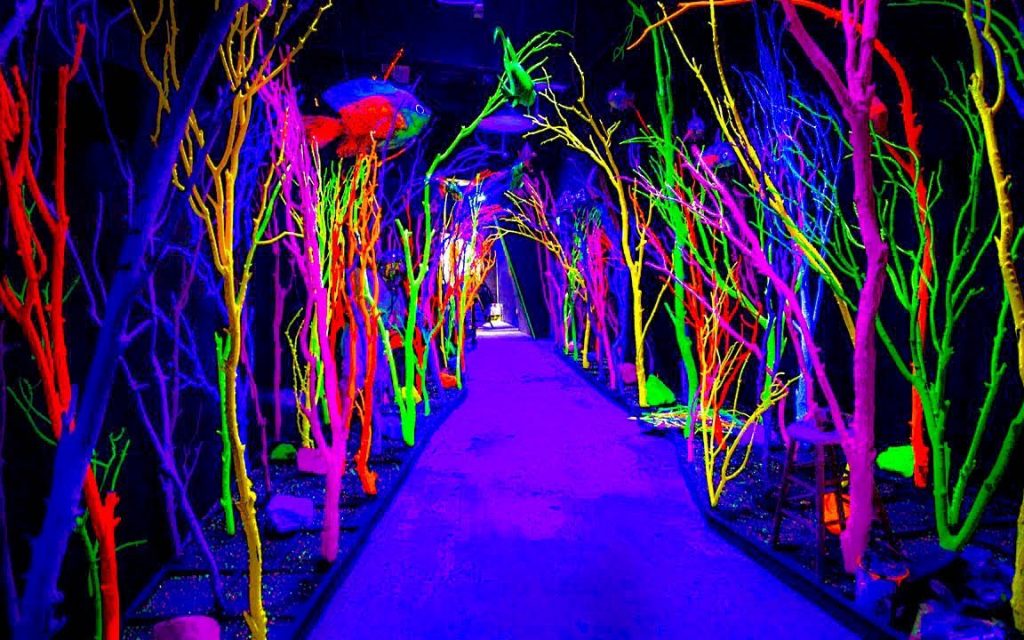 What is an immersive art museum?  It is more than simply looking at art; you get to experience it. Visitors get to slide through a washing machine, walk through a refrigerator, venture through a fish tank, and explore a faceless room all of which lead into other dimensions. Don't worry, if you are set on seeing a particular room the wonderful guides will help you find it.  Meow Wolf refuses to create a map of the inside because part of the experience is exploring the unknown. There are over 70 rooms and we even found out about some after we had left, prompting us to want to return to this museum.
Three hours into our exploration we decided we could not continue without some food, so we walked two blocks to Second Street Brewery where we had a flight of beer and some nachos. It was good to take a little break, even though Meow Wolf does provide food and beverages on-site. As long as you keep your bracelet on, you are able to enter and leave as you please during the course of the day.
After filling our bellies (and drawing on the bathroom wall with provided chalk) we decided to venture back to Meow Wolf for another two hours of adventure diving.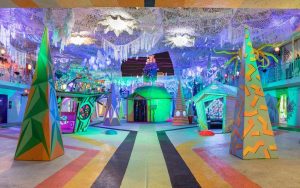 Meow Wolf appears to be multi-dimensions crashing into each other. Within the story, there are many different types of art with an underlying mystery about a family ripped apart by the multi-dimensions. People have visited many times and have yet to solve the complete puzzle of the family mystery. The minute you think you have the story figured out you stumble into an additional room and discover new evidence that causes you to change your entire perspective of the story.
Along with all of the different art and room types and the mystery are the interactive pieces of the museum which combine to make the experience unique.
Meow Wolf also promotes that it has exciting community and culturally diverse events so check out the website beforehand to see what additional features or activities it will have during your visit. (Like any trip to Santa Fe, a trip to Meow Wolf is not complete without their margarita from the Margarita Trail. It was a great way to round out the whole trip to Meow Wolf as it comes with a cloud of cotton candy on top that makes any adult feel like a kid again.)
Check out their website here for more info!