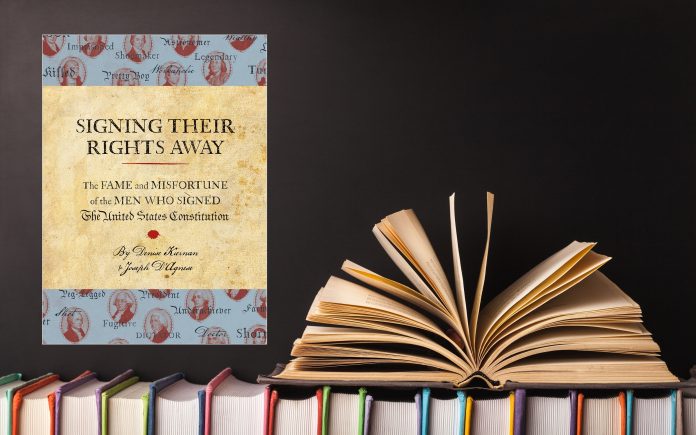 Calling all history buffs! I just finished reading a most fascinating book about the men who worked on and signed the U.S. Constitution. The full title of the book is Signing Their Rights Away – The Fame and Misfortune of the Men Who Signed the United States Constitution.
I don't know about you, but in my school years, this topic really didn't grab me. I can still recite the Preamble to the Constitution, but everything else is kind of fuzzy!
Believe it or not, this book is very informative and entertaining. The writing is conversational instead of history-bookish. There will be things in the book that you already know, but there are lots of tidbits that weren't in our high school civics books. For example, did you know that Benjamin Franklin was suffering from gout and a kidney stone for most of the time, and was transported to and from the meetings in a sedan chair carried by four strong men from the local prison?
Signing Their Rights Away chronicles a moment in American history when our elected officials knew how to compromise and put aside personal gain for the greater good of the country, and they did it for 5 months in a stuffy room while wearing stockings. Some of names of the delegates are familiar like George Washington, John Adams and Benjamin Franklin. Many other of the thirty-nine men are lesser known. Hugh Williamson believed in aliens. Robert Morris went to prison. Jonathan Dayton stole $18,000 from Congress, and Thomas Mifflin was ruined by alcohol.
Somehow these imperfect men managed to frame the world's most perfect Constitution that still governs today.
I know you would enjoy reading this book on so many different levels!
Signing Their Rights Away
Written by Denise Kiernan and Joseph D'Agnese
– Becky Lynn is a writer for EllisDownHome.com. She and her husband Bob enjoy spending time with their 8 grandchildren and traveling. Becky loves cranking up the music and heading to the kitchen to try out new recipes or cook for an upcoming party. She is passionate about continuing to be a life-long learner!