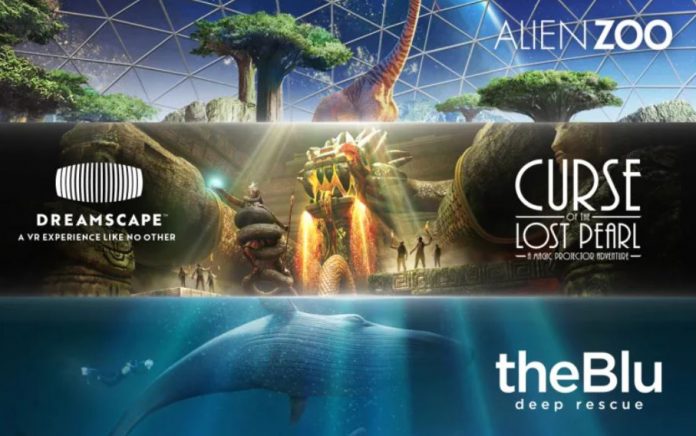 With my torch held in front of me to light the way and wipe away hundreds of spider webs, I pushed on with hopes of completing the mission. I bravely timed my jump through the swinging knives to continue on the path. Finally, we (My husband had dared to go on the mission with me.) arrived in front of the giant statue holding the lost pearl and made the final grab for it. Unfortunately, removing the pearl caused earthquakes which are not good when you are inside a cave. We escaped the cave, still clutching the pearl, just in time to be picked up by the airplane's grappling hooks.
Yes, believe it or not, this was how my husband and I spent our Wednesday afternoon. Thankfully, we didn't have to travel far to have this experience and our risk was very minimal. Our mission began at Dreamscape at Northpark Mall. We were intrigued when we saw ads for the experience, one of only two such virtual reality "movies" in the US. We made a point of going in to find out more about the virtual reality movie and left with reservations for the next week.
The customer service at Dreamscape is excellent. Everyone welcomed us and answered questions we didn't even know we had. We could tell they are excited about what they are doing. Precisely at our assigned time we were ushered to a room where they helped us "suit up" and explained everything that was going to happen. Our next step was to choose our avatars and the game began. Our mission was exciting and even a VR amateur like me could catch on and have fun.
Dreamscape currently has three adventures but are in the process of adding more. We had a great time at the experience and will go back and venture into the other two movies. The cost was the only negative for us. For $20, I would like to have more than 15 minutes in the adventure. (My husband said it felt much longer to him than 15 minutes, while I thought it seemed shorter.) However, with that being said, we will both return for another great experience.
Have you had a VR experience like this one? If so, please share in the comments below so we can try it out!
To find out more about Dreamscape and their available showings, click here.