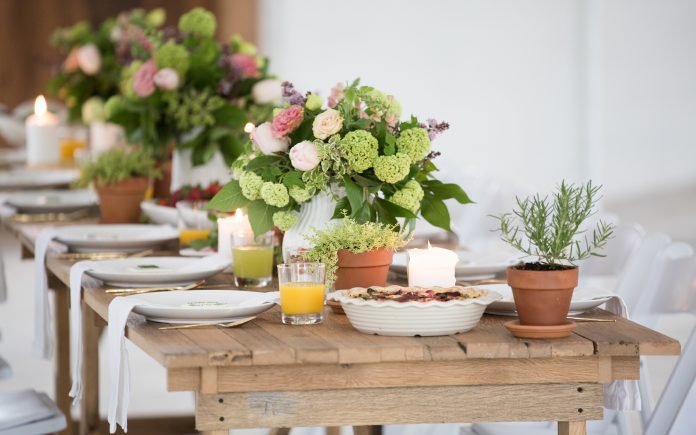 Brunch as defined by Wikipedia, is a "combination of breakfast and lunch, and regularly has some form of alcoholic drink (most usually champagne or a cocktail) served with it. It is usually served any time before 2 o'clock in the afternoon."
For many people, mornings are rather hurried and hectic trying to get ready for school or work. Breakfast, if we even manage to have any, might consist of whatever we can grab on the go. That is why I love it when I can plan a time for a brunch that can be enjoyed leisurely. What a luxury!
Spring is the perfect time to have a brunch whether it is for a group, your family or just yourself! In fact, to make it even more perfect, do an al fresco brunch and enjoy the birdsong and the beauty of Spring while you brunch.
It can be as simple or involved as you want; just make sure you allow for plenty of time to enjoy a relaxing midmorning repast. With a little bit of planning and prep, you will not be stuck in the kitchen while everyone else is brunching.
The Taste of Home website has an article called, "60 Easy Brunch Recipes You Haven't Made Yet" which got my attention, especially the word easy! Here are just a few of the 60 recipes on this site.
Scrambled Egg Muffins – This involves combining cooked pork sausage with eggs, chopped onion and green pepper, shredded cheddar plus salt and pepper. You spoon the mixture into greased muffin cups and bake. The neat thing is you can make up a batch, bake, eat some and freeze the rest for another time. This is a perfect make-ahead brunch dish!
Ham and Egg Pockets – Refrigerated crescent roll dough, eggs, thinly sliced deli ham and shredded cheese make these treats a snap to make.
Breakfast Banana Splits – Beautiful, delicious and nutritious! Bananas, fresh fruit such as grapes, kiwi, and berries, granola with fruit and nuts and vanilla yogurt are all you need to make this recipe. In fact, you could just set out the ingredients and let everyone make their own breakfast banana splits.
Baked Blueberry Pancake – Everyone loves pancakes, but if you are the cook, you might be flipping pancakes while the others eat them. To make these pancakes, all you do is stir up some pancake mix, add blueberries and cinnamon, and pour it into a prepared pan and bake for 10-12 minutes. When done, cut it into wedges and serve with butter and maple syrup.
Breakfast Bruschetta – I am an easy mark when the recipe says "bruschetta", so of course I had to check this one out. You stir together chopped tomatoes and chopped ripe olives with crumbled feta cheese and finely minced red onion. Spoon this mixture onto English muffin halves and pop in the oven for about 10 minutes. In the meantime, scramble some eggs. Top each muffin with some of the scrambled eggs, sprinkle with chopped fresh basil and serve.
Fresh Strawberry Breakfast Tacos – I cannot wait to try this one! It is easy to make and how could it not be good? You mix together cream cheese, vanilla yogurt, honey and cinnamon and spread it on heated flour tortillas. Add fresh sliced strawberries, fold and enjoy!
These are only six of the sixty brunch recipes found on this site. I know you will find something new and wonderful to make for your amazing Spring brunch! Click here to get to the site.
Now back to the definition of brunch. It said it was a combination of breakfast and lunch and regularly served with an alcoholic drink. Of course, that is not necessary, but just in case you think that's a good idea, there is a recipe for Peach Raspberry Bellinis that sounds like the perfect beverage for a Spring brunch. Check it out by clicking here.
Enjoy!
– Becky Lynn is a writer for EllisDownHome.com. She and her husband Bob enjoy spending time with their 8 grandchildren and traveling. Becky loves cranking up the music and heading to the kitchen to try out new recipes or cook for an upcoming party. She is passionate about continuing to be a life-long learner!