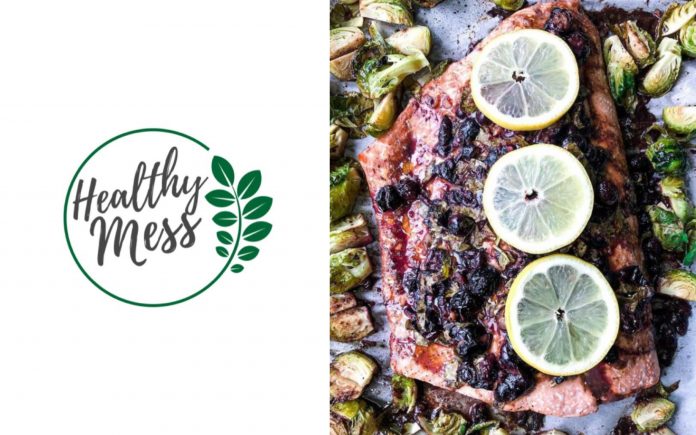 Maca Ramos, founder of Healthy Mess, shares one of her family's favorite and quick recipes with us – Superfood Baked Salmon, found on cottercrunch.com!
INGREDIENTS
3

 to 

4

 salmon fillets (

4

–

5

 ounces each) or 16 oz fillet (We use Sizzlefish Atlantic Salmon)

2 cups

 brussels sprouts (quartered)

1 cup

 fresh blueberries (or frozen)

1/4

 to 

1/3

 cup chopped fresh basil

1/4

 to 

1/3

 olive oil (divided)

3 tbsp

 balsamic vinegar

2

 cloves or 

1 tsp

 minced Garlic

1/4

 to 

1/2

 tsp crush black Pepper
Sea Salt (divided)

2

 Lemons, one juiced and one sliced
---
INSTRUCTIONS
Preheat oven to 400F
Clean your salmon fillets and place on lined sheet pan.
Clean and chop your Brussels sprouts. Place on pan with salmon.
Generously sprinkle sea salt on top of salmon and veggies. Set aside.
Next, place your blueberries in a bowl. Mash with fork a bit.
Add in 1/4 cup olive oil, 1/4 tsp salt/pepper, your basil, garlic, and balsamic vinegar. Mix all together.
Drizzle another 2 -3 tbsp olive oil over your salmon and Brussels sprouts.
Spoon the balsamic basil blueberry mixture over salmon fillets.
Squeeze fresh lemon on top of salmon and veggies. Place lemon slices on top of veggies on the sheet pan. Sprinkle with extra black pepper.
Place in oven and bake for 15 minutes.
Broil for 1 -2 minutes extra to make Brussels sprouts and baked salmon skin extra crispy.
Remove from oven. Serve and enjoy!
– Maca is a resident of Waxahachie and the owner and founder of Healthy Mess. She is passionate about all things related to HEALTHY – Living – Eating – Bodies – Mentality – Spiritually – Marriages – and all that falls in between. She just so happens to also embrace the MESS that is amongst all of the things of life. She loves to write and share what she's found along the way.