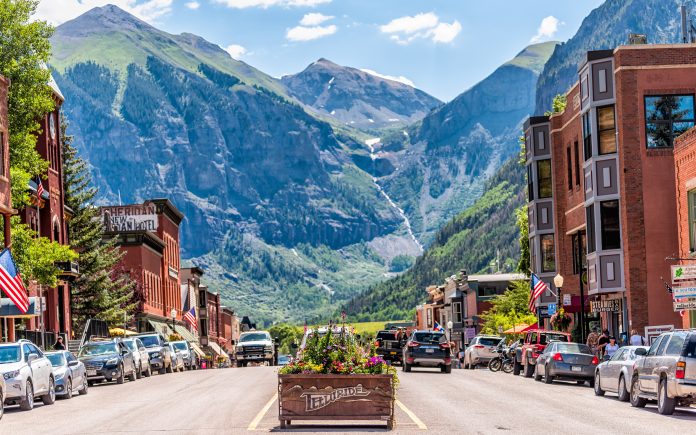 Possibly the best book I ever read was Ayn Rand's Atlas Shrugged.  It follows the dealings of John Galt, an idealistic industrialist who becomes disillusioned with the corruption and greed in America's capitalistic society.  He and other business barons like him decide to drop out of the corporate world and developed a city in the far outreaches of Colorado as a refuge for those who put integrity above enterprise.  They called their new utopia Telluride.
Ever since I read the book in high school I have always wished to journey to Telluride, Colorado; a pilgrimage like visiting fictional Shangri-La or Camelot. Attending the Telluride Jazz Festival made the adventure even more alluring.  The trip, the stay, the experience was even greater than I had anticipated.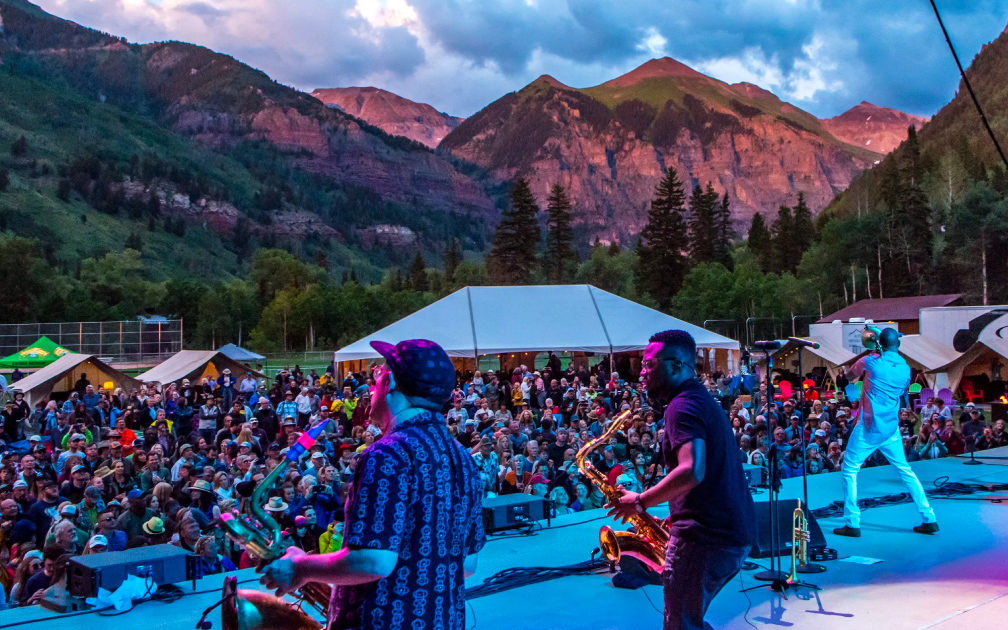 Like in Atlas Shrugged, it's not easy to get to Telluride.  United Airlines offers non-stop flights from DFW directly to Telluride (from $650 – $1,300 roundtrip).  American Airlines flies directly from DFW to Montrose, Colorado (an hour shuttle away) for $575 – $1160 roundtrip.  There are several daily flights to Telluride from Denver International.
Telluride Regional Airport, at a tad over 9,000 feet above sea level, is the highest commercial airport in North America.  Flying into the airport is reported by pilots to be a challenging approach through mountains 12,000 – 14,000 feet high.  Driving to Telluride seemed less expensive and not so harrowing.
My wife, Becky, and I flew into Colorado Springs and rented a car to take advantage of the 300-mile drive to Telluride through some of the most majestic scenery in the United States.  Rental cars with enough horsepower to ascend long stretches up mountain roads begin at about $60 per day.  The twists and turns up and down peaks and valleys demand you rent an automobile which is easy to navigate and in which you feel safe.  We rented a mid-size SUV with enough muscle to climb any steep grade.
The roads are generally wide, well maintained and have adequate passing lanes. There are numerous pull off areas to get out and take in the magnificent vistas.  Towns are few and far between along the route, so make sure to watch your gas gauge because a serpentine mountain roadway is not a place you would like to run out of petrol.
Telluride is the 24th highest in altitude city in the U.S. at 8,750 feet above sea level.  It's comparatively small with a population of 2,000 yearlong residents who love the serenity of the community.  It wasn't always that way.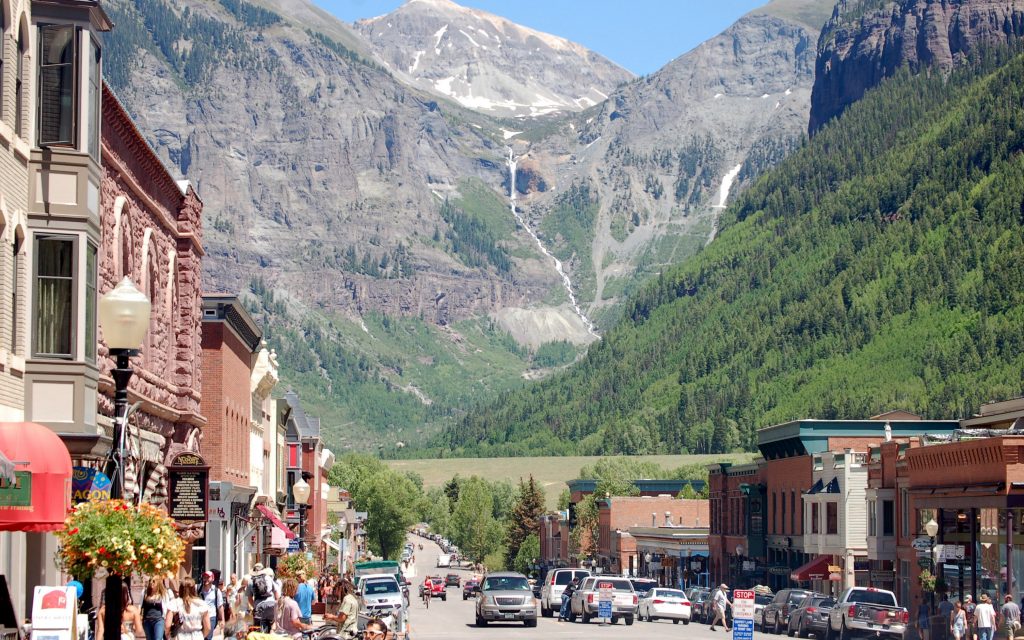 Prospecting became prosperous in the 1870s and along with the gold and silver miners came a rip-snorting boom town with infamous saloons and brothels.  The local newspaper once wrote that the nearby town of "Ouray has 4 churches and 14 saloons. Telluride has 10 saloons and plans for a church…."  By 1890 the population had swelled to 5,000, more than twice the people living in present day Telluride.
Mining made the city renowned.  There are more than 800 miles of tunnels snaking through mountains surrounding the city. The railroad connected the city with the rest of the world in the 1890s and the town swelled with people and pride.  However, while the rich lived in splendor the miners lived in shanties.  When the silver market crashed in 1893 followed by strikes and harsh government environmental regulations, the mines closed and so did the city.  By 1930, the population had dwindled to 512.
The savior was snow when ski areas began operating in the early 1970s.  Telluride became a mecca for skiers who didn't want to deal with the commercialization of ski resort cities like Vail, Aspen or Breckenridge. And, to keep tourists visiting when snow melted, the city featured grand celebrations including film, bluegrass, balloon, and wine festivals.  We attended the legendary 45th anniversary of the Telluride Jazz Festival.
Becky and I love to attend music festivals ranging from jazz in Vail and Aspen to Zydeco in New Orleans.  This year's event in Telluride may have been the best.  The festivities are more like a party than a performance.  It is held in beautiful Town Park at the east end of Main Street.  The passageway from two main gates to the complex meander through lofty oaks and aspens and across streams and ponds.  Although the park area outside the gated amphitheater makes seeing the actual performers difficult, there were hundreds of picnickers on blankets enjoying the concert for free.
The three-day concert has several ticket plans ranging from day passes ($65) to the exclusive Patron Pass ($850) which includes backstage entry, meals and food throughout the day and free beverages.  We purchased tickets which gave us access to seating, however, just a few yards away patrons with day passes were dancing at the foot of the stage.
The bands on the main stage in Town Park usually played 45-minute gigs beginning in early afternoon and continued through 10 p.m.  Music ranged from reggae to big band productions.  There was something for everyone dating back to the early beginning of jazz in the French Quarter and Harlem all the way to soul and ska.
On the west end of town is Elks Park where performances were free.  They primarily featured youth bands, which quite honestly, were more entertaining than some of the music conducted on the main stage in the Town Park amphitheater.
We took some time off from attending the Jazz Festival to experience a 4-wheel excursion on old miner's trails along the side of Telluride Mountain about a 2-mile ascent along narrow gravel paths with 2,000+ foot drop-offs.  Becky always sat on the mountain side of the jeep, so I looked out my open window straight down to the City of Telluride valley.
After about 20-minutes of hoping I would not lose my breakfast or my sanity, I began to enjoy the adventure.  Although the trip would not be for the faint hearted, the 2-hour ramble was memorable and breathtakingly beautiful.  The tour company we selected was Telluride Off-road Adventures and our driver/guide, Herb, was informative, entertaining and a safe driver.
The downtown area is filled with bistros, eateries, boutiques…… and lots of realty firms. It is four blocks wide and eight blocks long.  Beginning at the west end there is a substantial slope downward to Town Park.  That is nice when you are walking downhill, but a strain coming back.
Fortunately, there is a wonderful, free transportation called the Galloping Goose.   It makes a complete circuit around the city every 15-minutes, so you can be at the base of Town Park and let the spacious bus climb back up the hills.
The beautifully clear San Miguel River separates the southern side of downtown from a steep mountain leading up to Mountain Village, Colorado, home to an expansive resort used for skiing, lodging, shopping and dining.  Luckily, there is a free gondola carrier which carries people, bikes, skies and pets from the base upwards almost 2,000 feet to Allred's Restaurant and the Mountain Village community. Some riders on the gondola bring bikes to traverse the many mountain trails.  Some bring dogs and walk down from Coonskin Ridge (10,500 feet) back to the city center.   On a clear day visitors to the mountaintop can see the La Sal Range in Utah.
Although we did not visit the Mountain Village, we did enjoy supper at Allred's located at the first stop of the gondola.  We choose Allred's for both the mood and the food…. beautiful views of the San Miguel Mountains and fine dining.  During the summer the restaurant offers a three-course tasting menu ($79 per person) of an appetizer selection, main course, and dessert.  You begin with selections ranging from salads to beef tartare.  You also have an ample choice of entrees featuring seafood, rack of lamb, steak, bison and much more.  There were numerous desserts to end the meal.
Two other restaurants of note in Telluride are Rustico and 221 South Oak Bistro. We had memorable meals at both. Rustico is a wonderful Italian restaurant with impeccable service and distinctive dining. We shared Bruschetta Toscana, with toasted Filone bread, tomato, basil and garlic dipped in a flavorful olive oil.  It was followed with Minestrone soup and sharing of Fettuccine Mare, a pasta dish with shrimps, scallops, and salmon in a light marinara sauce.
Rustico offers a wide selection of antipasti, 10 different pasta and risotto dishes, Black Angus from the Double L Ranch in Colorado, veal, seafood and four different styles of pizza.  It is a family friendly place or a great setting for an enchanting dinner.  If you visit Telluride, Rustico is a must eatery.
Our best meal was enjoyed on our final night in Telluride at the 221 South Oak Bistro. It is the home of Chef Eliza Gavin, a contestant on Top Chef Season 10, a graduate of the Culinary Institute of America in Napa Valley and the Le Cordon Bleu in Paris and now a notable chef of distinction at her Telluride restaurant.
The establishment is located in a historic home with a cheerful indoor décor featuring artwork by Marshal Noice and a beautiful, Aspin shaded patio. Because Telluride is at a high altitude (8,750 ft.), a longer time is needed to cook food.  The ambiance, décor and the tranquility, especially outside, made every minute enjoyable.
One could just eat the appetizers and praise 221 as serving the best meal ever.  They include Foie Gras, grilled octopus, crispy artichoke, fried quail, salads and soups.  Becky had fried green tomatoes which were better than anything she has had in the deep south. I had tuna tartare more tender and savory than any tuna I ever tasted.
When we go to Colorado there are two entrees we always seek:  Becky covets mountain trout and I love lamb.  We were not disappointed at 221.  Becky's trout covered her entire plate and I was served five ribs which had that rustic taste seldom found in store bought lamb.  Both meals were superb.
Telluride is not easy to get to, but it is well worth the trip by either car or plane.  The city is nestled in a valley surrounded by majestic peaks.  You look up the mountains and see mule train trails used by miners in the 1870s, or ski trails used by a new breed of adventurers.  It is a city of myth in Atlas Shrugged, Ayn Rand mythical utopia. Today's Telluride is the same paradise.
– Bob Lynn has owned an advertising agency for more than 40-years and writes anything from commercials to brochures, so getting an opportunity to create something that isn't selling a product or service is a true joy for him.  He contributes stories for Downhome ranging from travel and restaurants reviews to book critiques and our What's Special About Today feature.