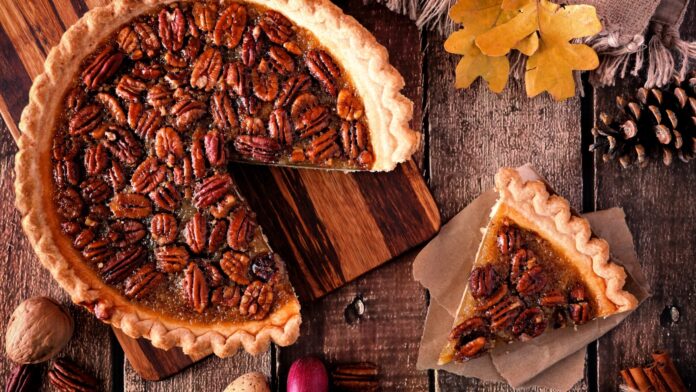 1 in 3 Texans admit sweet treats trigger prolonged spells of unhealthy eating. 
Hawaii residents the most likely to succumb to desserts.
Texas' Pecan Pie has been named and shamed as a 'gateway food to obesity' according to research by DrugGenius.com, a provider of reliable, evidence-based information about prescription medications.
The website surveyed 3,003 respondents and found that over 1 in 3 (38%) Texans admit that eating just one sweet treat, such as the local Pecan Pie, acts as a trigger which leads them onto a spell of unhealthy eating. This thanksgiving classic has signaled the end of an otherwise healthy eating plan for Texans. The sugary dessert consists of a homemade pie crust and a pecan filling made of pecans, sugar, butter and corn syrup. It's not surprising that this delicious dessert has many locals in the Lone Star State hooked! 
But it's not only Texans who succumb to a mindless addiction of sugary treats: Floridians have the zesty Key Lime Pie to contend with, while those in Connecticut must try to resist the delightfully named Snickerdoodle Ice Cream Sandwich (two sugary, cinnamon-laced cookies with a layer of vanilla ice cream in the middle). Spare a thought for those from Mississippi, whose same-named Mud Pie is a heavenly confection of cream and chocolate sauce on top of a crumbly chocolate base, or New Yorkers, with their thick, dense cheesecakes. And in general, we're all being tempted, all the time; from when we go to the supermarket and there are candy bars stacked at the tills, or even popping into a coffee shop for a cappuccino, and are faced with everything from muffins to giant slabs of banana bread….
Infographic of sugary treats in each state
So why is eating an innocent dessert so likely to make us want to break our good habits? Well, it has been well established that sugar acts, basically, just like a drug. Firstly, it fuels every cell in our brain, making it alert. Our brain also sees sugar as a reward, and the more we eat, the more we want; this makes the habit very hard to break. In fact, some experts believe that sugar might be as addictive as an actual drug like cocaine, because eating it releases various opioids and dopamine (a feel-good neurostransmitter that activates the pleasure sensation in our bodies). And who doesn't want a bit more pleasure in their lives? You don't get that from a kale salad…everything in moderation, though (especially moderation!).
'It's no wonder many can't resist the sweet taste of our favorite dessert,' says Stacie Detmer of DrugGenius.com, 'but we need to learn how to try. It's a slippery slope from eating just one candy bar a week to having one every day, and it's been proven that sugary foods can contribute to obesity. Counterbalancing sugar in our diet with exercise and an otherwise healthy, sensible eating regimen is at least a start.'