Approximately halfway between the 160 miles separating Savannah and Jacksonville are the Golden Isles of Georgia.  A 1½ hour drive from either of those city's airports and you will arrive at the isles which include St. Simons and Jekyll islands and their pristine shorelines along the Atlantic Ocean.
Both islands have a distinct setting and spirit.  Jekyll has a more laid back, resort type character and St. Simons has a vacation destination vibe.  Both have magnificent coastlines with the Atlantic lapping right up to hotel properties.
Jekyll Island once was the home of several large plantations which eventually ceased after the Civil War.  In 1886, the Rockefellers, Vanderbilts, Goodyears and other affluent families purchased the island for a summer retreat.  In the late 1940s it was sold to the State of Georgia for public, private and wildlife preserve use.
As a testament to Georgia's commitment to preserve the ecology, wildlife and nine miles of oceanfront, only 35% of the island is developed, leaving 65% left in its unaltered environment. According to the Golden Isle's CVB the island features nine hotels with 1,500+ rooms offering accommodations from family-oriented to luxury, and the activities available include 63 holes of golf, glorious white sand beaches, a tennis complex, summer water park, nature and bike trails, turtle center, and fishing piers.
One of the most interesting activities is to visit Georgia's only sea turtle education and rehabilitation center, the Georgia Sea Turtle Center on Jekyll Island.  The facilities and programs are interesting for adults and children including sunrise nature walks to see tortoises in the wild, interactive exhibits, and hands-on presentations by center staff.
The marina on the island gives visitors the options to enjoy the open waters with opportunities ranging from deep sea and back water fishing to ecology exploration and air boat tours.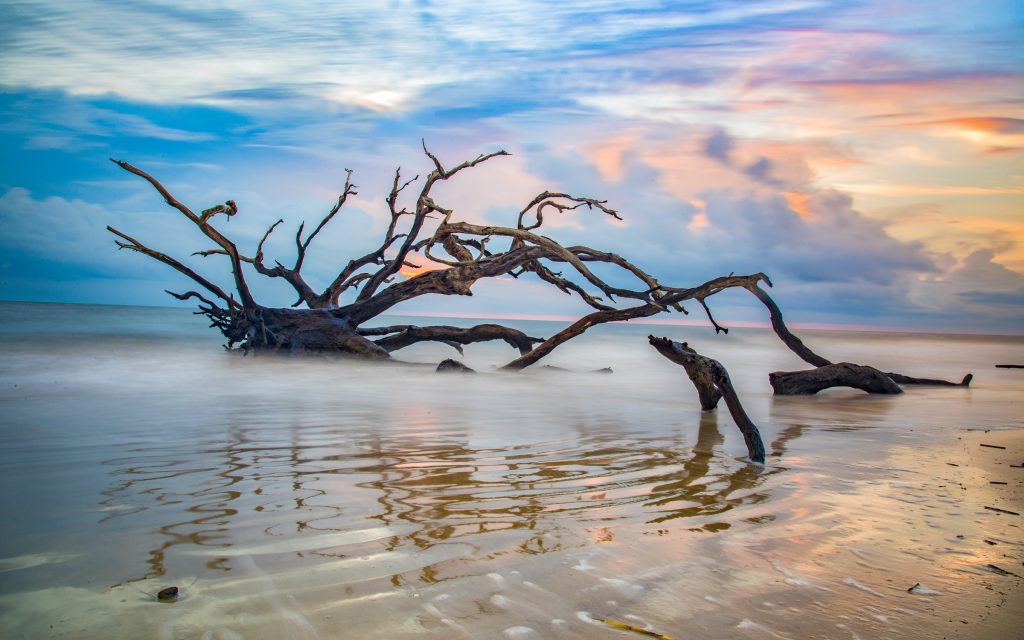 Nothing is in a hurry on Jekyll Island.  It is serene and a place to relax.  The Rockefellers did it on the same beaches 126 years ago.  You will see why they and their friends chose such a beautiful paradise to chill out.
We stayed on St. Simons primarily because of the hotel:  The Prince and King Resort. It offered us a balcony just feet from the beach and the ocean; an experience we felt we needed to enjoy as we traveled along the Atlantic.
Originally, the property's first building was a dance club in 1935 adding hotel rooms six years later.  Designed with a Mediterranean flair, it was honored in 2005 to be included on the National Register of Historic Places.
St. Simons offers lots of locations for seashore shopping ranging from surf boards to kites.  There are wonderful art galleries and up scale gift and clothing boutiques, along with your typical souvenir and swimwear shops.
The island was a central Atlantic observation post during World War II, and today has several museums dedicated to maritime and military history.
We chose to go beachy with our dining choices.  For lunch we ate at Iguana's and enjoyed peel and eat steamed shrimp caught in the waters directly off the Georgia coast. It had a long front porch where we could watch the beachcombers wayfaring the two blocks to the ocean.
At dinner we ate a block away at The Half Shell, another seafood eatery with a large, screened veranda to let the salt air drift in.  Becky and I both had flounder and crab bisque soup to meet our requisite of eating seafood at every restaurant we visited along the Atlantic coast.
What made the meal so enjoyable is meeting vacationers from every part of the U.S. as we waited for a table.  We are on a small island in the middle of the Georgia coast line and we chatted with folks from Maryland, Palm Beach Florida, and as far away as California.  We thought it was the charm and ambiance of St. Simons which seemed to draw strangers together…. a highlight of our trip.
At night we kept the balcony doors open and enjoyed the scents and sounds of the ocean with high tide less than 50-feet away.  Our morning coffee on the balcony gave us a front row seating to gulls and pelicans and many other birds scavenging the shoreline for critters the sea had washed up. We left soon afterward, but to this day reminisce about the wonderful 24-hours we spent on the St. Simons Island.
The location is approximately 80-miles from either the Savannah or Jacksonville airport.  Rent a car and make the drive for an opportunity to make a lifetime memory.
– Bob Lynn has owned an advertising agency for more than 40-years and writes anything from commercials to brochures, so getting an opportunity to create something that isn't selling a product or service is a true joy for him.  He contributes stories for Downhome ranging from travel and restaurants reviews to book critiques and our What's Special About Today feature.