I fell in love with Vietnamese cuisine during our trip to that country. The fresh vegetables, variety of foods, and seasonings vaulted the Vietnamese cuisine to the top five on my list. Thankfully, we discovered the Green Papaya in Dallas for times when I want to eat some of these wonderful meals and relive great memories.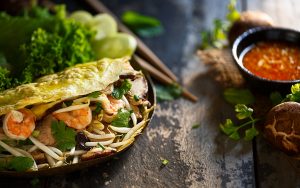 My favorites are foods that I fell in love with in Vietnam–Green Papaya Salad and Banh Xeo. The salad has papaya, shrimp, pork, and peanuts with a fish sauce. (Fish sauce is used in place of soy sauce in Vietnam.) The salad can easily be shared by three or four people as an appetizer and is a good introduction to Vietnamese food. Banh Xeo is more unusual. The menu describes it as a crepe made of yellow beans, although upon seeing it I thought it was an egg omelet. Filled with shrimp, chicken, and bean sprouts, the dish is eaten by wrapping some of the crepe and its filling, along with cilantro and fish sauce, in a lettuce leaf.
The extensive menu holds many traditional Vietnamese foods such as pho, the traditional noodle soup with your choice of meats or tofu. (Just a note: Pho is still primarily served for breakfast in Vietnam.) The spring roll appetizers feature fresh ingredients, and many are served with tasty peanut sauce. Green Papaya's menu features some Chinese foods since China's influence was felt in Vietnamese cuisine through the ages. Many foods also reflect the Asian and French fusion adopted by Vietnamese culture many years ago. For example, bread is used in Vietnamese cuisine because the French brought baguettes. Vietnamese coffee is another French-influenced drink, a combination of coffee sweetened with condensed milk. (I wish they served Hanoi egg coffee, but I haven't been able to find this drink yet in Dallas.)
Service and takeout are always excellent. Valet parking is also very friendly and helpful, especially if you simply want to run in quickly to pick up an order. The restaurant's atmosphere is casual. My preference, if weather permits, is to eat on the patio and watch cars go by. Green Papaya does take reservations which is helpful on Friday and Saturday nights. To check out their website, click here.
-Candace Ahlfinger is a lover of travel, adventure, and good food and fun! Traveling is a great experience that enriches her life, and she loves to go anywhere and everywhere with her wonderful husband or her children and grandchildren. Whether it's trying a new local restaurant or sharing a long-time favorite, she loves giving the readers of Ellis DownHome new places to try!