Overlooking the crystal-clear turquoise waters of the Caribbean, Tulum Quintana Roo, Mexico, stands as a reminder of the far-reaching power of the Mayan people. Located about 80 miles south of Cancun, Tulum gets its name from the Mayan word for wall. Indeed, Tulum is surrounded by a wall ranging from 16 feet to 26 feet thick. Archaeologists are not certain if the wall was built to keep marauders out or to delineate between royalty and commoners, but, whatever the purpose, the city within the walls is magnificent. El Castillo, built on a 39-foot cliff, towers over the site and, with the beautiful water below, is one of the most photographed sites in the area. Its position made it the perfect home for a lighthouse that guided canoes through a break in the coral reef to the beautiful, white sand beach below. (During another visit to Mexico we had the opportunity to parasail near Tulum at sunset. The sight of El Castillo framed by the beautiful colors was spectacular.)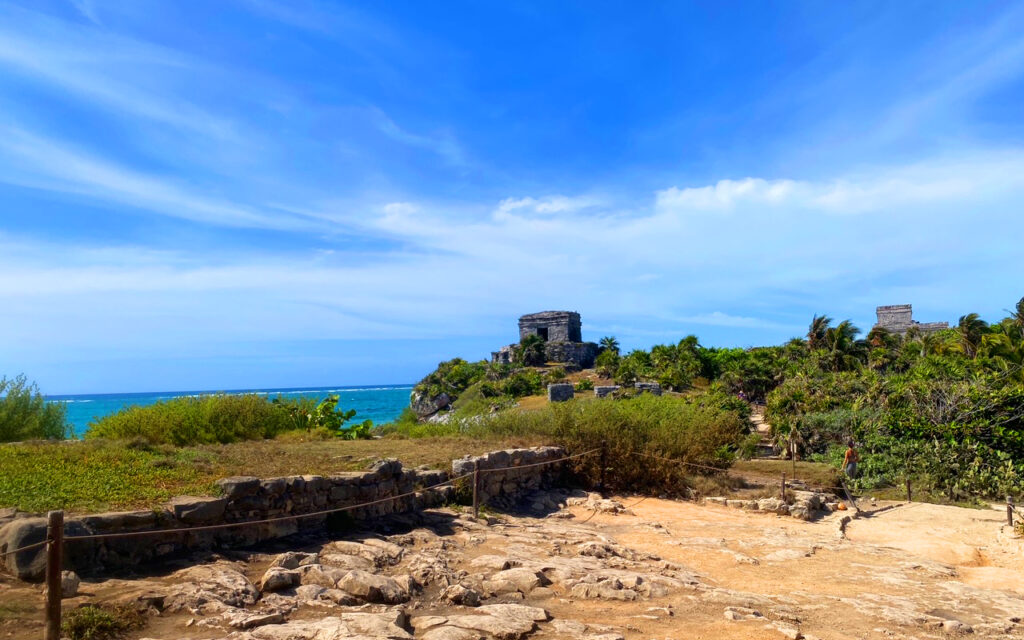 Another building that drew our attention was the Temple of the Frescoes. The small two-story structure contains remnants of murals showing Mayan gods including the descending god who is frequently pictured throughout Tulum. The god is represented diving to the depths of the ocean near Tulum where the entrance of the underworld was thought to be.
Our tour guide, Markus, with AllTourNative, was excellent as he explained historical and religious aspects of the site. We had visited Tulum years ago, but having a guide made the visit more interesting. We learned about the importance of trade between Mayans in Guatemala, Honduras, El Salvador and Belize at the civilization's height from 300 to 900 CE.
Unlike many other indigenous people, the Mayans did not disappear. Many were assimilated into other cultures, but there are still Mayan villages where their language is still spoken and older ways of life are maintained. AllTourNative specializes in collaborative efforts with the Mayan people to provide eco-tourism mutually beneficial opportunities. I was extremely impressed at the insight Markus provided into current Mayan lifestyles and the fascinating history of Tulum.
A few important things to remember when visiting Tulum: Wear a hat, sunscreen and bug spray. Shade is limited and the weather can be hot so also take water. There is a shuttle from the entrance to Tulum, but we walked the 0.6 miles with no problem. Whether you prefer to walk or take the shuttle, make certain to wear comfortable shoes.