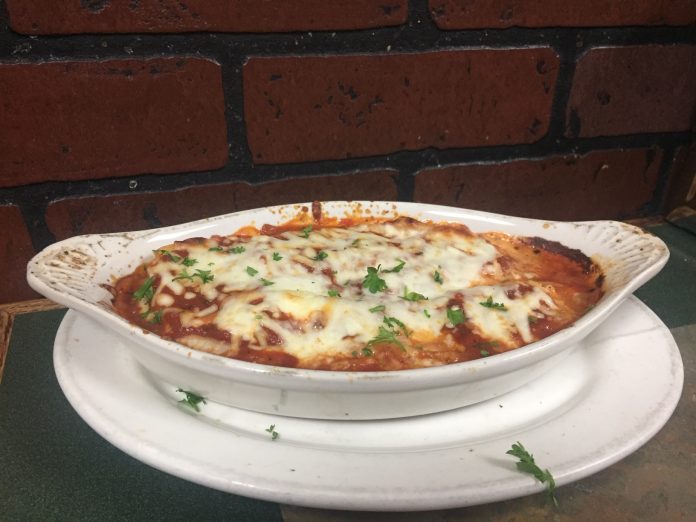 *Note: This article was written before the shut-down due to the Coronavirus. However, Villa Italiana is open for take-out orders!! And when it's time to resume life in our communities, put them on your list to visit in person. Check out their Facebook page here for more info.
Villa Italiana, a family-owned and run restaurant, was a beacon of light on Main Street Midlothian on a dark, rainy night. We were warmly greeted and seated ourselves in this casual eating place. Mother and son made us feel comfortable and offered quick service. The restaurant has two nice-sized seating areas as well as a very active to-go section.
Villa Italiana is BYOB and they provide wine glasses if you bring a bottle of wine to accompany your dinner. The BYOB policy is a big plus to wine aficionados who like to enjoy their own wine and to money-conscious diners who don't want to pay the typical restaurant wine mark-up. (We wish we had known before we went.)
We were quickly brought some luscious fluffy bread followed by fried calamari generously sprinkled with Parmesan cheese and served with marinara sauce. The rings-only calamari was more than my husband and I could finish but we were glad to take them home!
We chose the homemade tomato vinaigrette for our salads and were rewarded with a different flavor with undertones of Italian marinara. We followed the salads with lasagna and chicken scallopini, a luscious dish of chicken, artichokes, capers, mushrooms, and a lemon butter sauce. Our portions and those on nearby tables were generous portions. (We took part of both dishes home with us, also.)
The pizzas come in four sizes. In addition, diners have the choice of getting a single slice, a great option that many places don't offer. Visitors have the choice of their standard pizzas or creating their own with the numerous topping options. (Based on the number of pizzas we saw going out the door in the to-go area, pizzas are definitely a favorite.)
The subs, including meatball, eggplant parmigiana, chicken parmigiana, and more, smelled and looked great as they passed our table. They will be on my list for our next visit.
Have you visited Villa Italiana? What are your favorite dishes here? Please share in the comments below so readers have your help in making difficult dining choices!