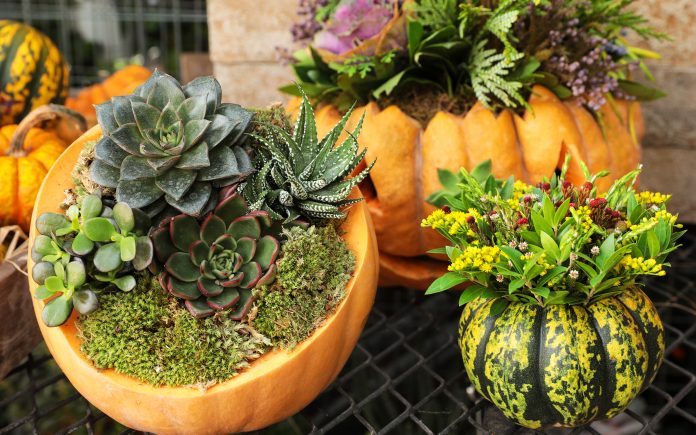 When the fall season comes around we need to think of ways to bring greenery into our homes. If you normally go to the rose garden or pick a gardenia from the bushes, this is great for spring or summer. This time of year, the fall colors and flowers are not as abundant. Have you thought about using succulents?
If you hollow out a pumpkin and allow it to dry it can become a flower pot. You can add soil or water depending on what type of flowers and greenery you want to use.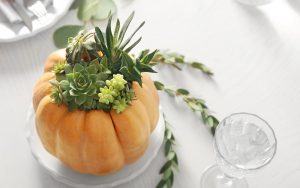 Succulents are a great choice for this time of year. It is very showy and different from the flowers that are used in the fall. The variety of succulents is very abundant in stores and can even be bought online. The container will not last forever, but can be used for the fall season. The succulents can be removed and planted in a container that is made of ceramic, tin, or even a plastic container.
While cactus are by definition succulents, they are often referred to separately from other succulents. Succulents include a wide variety of genus and species and therefore come in a variety of colors, shapes, and textures. "Genus and species" is defined as the various type of plants. Think of a daisy and compare to a geranium, this is just a different type of flower.
Succulents may require a different amount of sunlight and water. Before you match them, determine if they will be happy in the same container. In my experience I had two plants that were not happy together and one suffered from too much water. If this occurs, pull it out and replace. Click here for more information about succulent care.
Succulent plants have a need for a well-drained soil, whereas most house plant soil is the opposite. Mixing a regular soil-less mix with extra aggregate such as pumice, per-lite or small gravel or turkey grit will improve the drainage part of the soil mix immensely.
Happy Planting!!