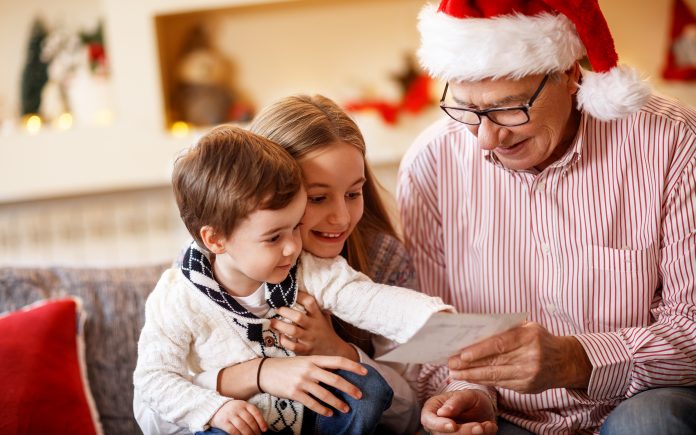 Don't wait until Christmas Day to start celebrating with your grandchildren. There are so many fun activities that you and your grandchildren can do BEFORE Christmas Day even if your grandchildren live far away.
There are lots of wonderful holiday story books out there that are better given before Christmas so they can be enjoyed for the whole holiday season. If your grandchildren live close by, then of course, what could be better than snuggling up with them and a holiday story? For long-distance grandchildren, you can have books shipped directly to them. Another great option is to get a Hallmark Recordable book and record the book before sending it off.
Another good idea for a before Christmas gift is to give a special ornament with the year on it so there will be a record of Christmases past. Handmade ornaments are extra special and maybe your grands could help make them.
No matter how old your grandchildren are, they love to see pictures of their parents when they were kids. If you have some pictures of their parents at Christmas, make copies and send them to your grandchildren through the mail even if they live next door. (Every child loves to get mail!)
Are you up for making a gingerbread house? It's really easy these days because you can buy kits at the grocery store with everything ready to "paste" together with sticky icing! You can make these masterpieces with your grands, or mail the kits to your grandchildren who don't live close to you. (If sticky icing is not appealing to you, there are gingerbread house kits that are made out of cardboard or resin.)
Another meaningful activity to do with your grandchildren is to involve them in charitable activities such as shopping for children in need or putting money in the red kettle. You can also make a donation in your grandchild's name to a charity.
How about making a bird feeder for the wild birds in your area? There are lots of ideas on how to make these simple feeders on the internet. Many are quite simple and use materials you already have at your house. If your grandkids live away, you could send them a bird feeder. It will be a gift that could develop into a cool hobby for you and your grands!
There are so many great ideas for pre-Christmas things to do with your grandchildren. Click here to read more.