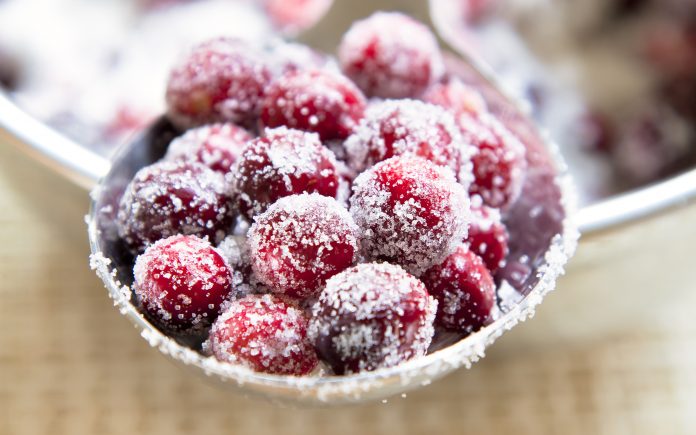 It is always a happy day for me when I spot the packages of fresh cranberries in the grocery store! I stock up on those beautiful berries because I know the fresh cranberries are only available for a short time.  I am glad I can freeze some for later use!
Cranberries are actually one of only a few major fruits that is native to North America. The Native Americans used them for food, medicine and as a natural dye for their clothes, rugs and blankets.
They are 90% water, and they have little pockets of air in them which is why they float and bounce! They do not grow in water, but because they float, the bogs are often flooded during the harvest process.
Cranberries have many health benefits such as an aid in reducing the risk of cardiovascular diseases, helping to slow down tumor progression and preventing kidney infections. They have natural flavonoids that are useful in preventing the growth of plaque, bacteria and gum disease.
I love making fresh cranberry sauce for our Thanksgiving dinner, but my very favorite cranberry recipe is for Sugared Cranberries. It's simple to do, and the results are not only delicious, but beautiful as well. I use them with sprigs of rosemary to decorate cakes or as a garnish on either a serving platter or dinner plates.
You can put them in a pretty crystal or holiday bowl and serve them almost like candy. They are tart and sweet at the same time, and they pop in your mouth when you bite down. I bet you can't eat just one!
SUGARED CRANBERRIES
2 cups of sugar
2 cups of water
2 12oz. bags of fresh cranberries
Granulated sugar for dusting
Combine sugar and water in a large saucepan and heat until sugar dissolves.
Bring sugar water to a simmer, remove from the heat and add the cranberries. (Do not boil or the cranberries will pop.)
Pour cranberries and liquid into a large bowl, cover and refrigerate overnight. They will continue to "cook" and marinate in the sugar solution.
Drain cranberries and roll in granulated sugar. (I put about ¼ cup of sugar in a small bowl and dust a few cranberries at a time. When the sugar gets clumpy, I replace it with another ¼ cup and so on until all berries have been sugared.)
Spread the cranberries in a single layer on a baking sheet or baking racks and let stand at room temperature for an hour or until completely dry.
Store in an airtight container in a cool place for up to a week. (Do not store in the fridge, or they will get mushy and sticky.)
Note: I usually just leave the sugared cranberries out in a bowl; I think they stay crunchier!
I hope you have good luck with this recipe. If you have questions or other cranberry recipes to share, please comment below.