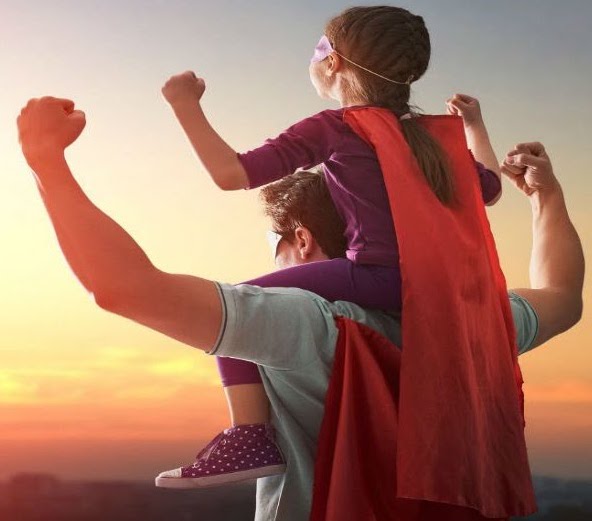 FATHER'S DAY
It's time to celebrate Dad! Father's Day is almost here, and that usually means food! It's a day when you can eat bacon and red meat and heavy sides and not feel guilty. I have been "surfing" the web, and there are so many intriguing ideas and recipes for food to serve on Father's Day. I've printed so many recipes already that I think we will have to extend our Father's Day celebration for several days so we can try them all!
Man Cakes Anyone?

When I saw a recipe for mancakes, I just had to check it out. Mancakes are actually pancakes made with flour and cornmeal with bacon and cheese thrown in for good measure. I watched the video on how to make them on the All Recipes site, and I'm pretty sure I can handle it. On this same site there was a recipe for Tex Mex burgers with Cajun Mayo which takes the regular burger up a notch without much extra effort. How about making a bacon cheeseburger meatloaf for Dad? How about all of the above and more that you can find by clicking below. CLICK HERE

How About Hot Dogs?

I know you have heard about pigs in a blanket, but have you ever heard of pigs in a quilt? The Delish website has taken the ordinary hot dog to new heights? They have the recipe for pigs in a quilt as well as grilled cheese dogs and jalapeno popper hot dogs. There are videos for each recipe, so all you have to do is grab a package of hot dogs and get cookin'. I also found some interesting ideas for desserts to serve on Father's Day such as Chocolate Peanut Butter Cheesecake, Banana Split Lasagna and Giant Oreo Cake. Dad will feel like a king when you serve him hot dogs and cheesecake. Click below to check it out. CLICK HERE

Kids In the Kitchen

I found a great site called In the Kids Kitchen that has lots of cute ideas for things your children can make in the kitchen for their dad. The recipes are divided up between sweet and savory. Many of the sweet recipes use store-bought cookies and candies that can be used to make edible lawn mowers, golf balls, basket balls and so much more. The savor section has some yummy sounding recipes for things like Sweet and Spicy Buffalo Chex Mix, Pepperoni Pizza Muffins and Deluxe Pizza Sliders. I love the idea of the kids cooking for their dad, and I know Dad will love it too. Click below to view the site. CLICK HERE
I know you and your family will enjoy cooking for and celebrating Dad!