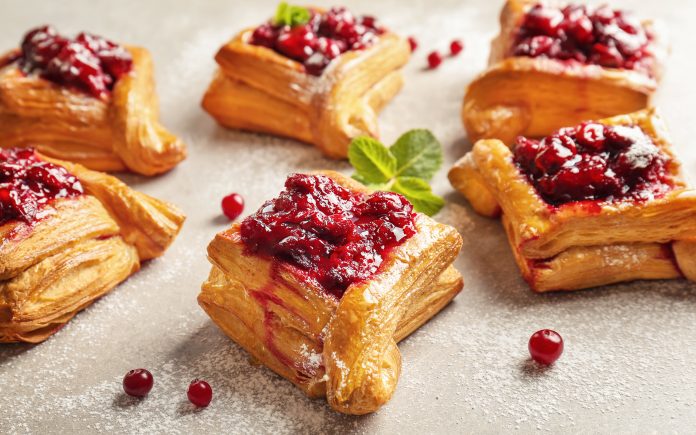 Do you want to stock your kitchen with a secret weapon? From last minute appetizers to guest-worthy dinners and easy desserts, frozen puff pastry is the workhorse of a busy kitchen. It's flaky, easy to use, and will make you look like a master chef!
What is Puff Pastry?
The Pepperidge Farm website says that puff pastry is made from the same ingredients as regular pie pastry, but the dough is folded multiple times to create thin layers. When baked, steam makes the layers rise about 8 times higher which makes a very light and crispy pastry.
Of course, you can make your own puff pastry, but you can also find it in the freezer section of your grocery store. A box of frozen puff pastry will last 8 months in the freezer, so it is a great ingredient to have on hand.
When you are ready to make a "puff" recipe, just move the pastry from the freezer to the fridge for at least 4 hours or overnight to defrost.
Let's Get "Puffing"!
There are numerous sites on the internet to find recipes using puff pastry, and I have found more than a few that will be "tested" in Becky's Kitchen!
I started my recipe search with the Pepperidge Farm website. Their recipes are divided into 6 categories from breakfast to desserts and lots in between. I clicked on the breakfast tab and immediately found a recipe for waffles. All you need is puff pastry and a waffle iron.
Another recipe on this site that got my attention, was an appetizer called Maxwell Street Polish Tarts. It says, "Kielbasa gets sophisticated when served with puff pastry and caramelized onions." I am always looking for new appetizer recipes, and this may be a great one to add to my "playlist"!
There are so many recipes from Pepperidge Farm for you to browse. Click here and get ready to be inspired.
Another very informative site about puff pastry is the Epicurious website. It has helpful tips for working with puff pastry plus recipes. One whole category has recipes that you and your children can make together. The kids can help cut, twist and assemble the dough into lots of yummy creations. One thing I loved was "Things in a Blanket". Your children will probably opt for hot dogs wrapped in a blanket of puff pastry, but you could wrap sausage or even veggies and cheese.
There are recipes for turnovers, potpies, breakfast casseroles, empanadas and even doughnuts. I think you will enjoy scrolling through them, and I bet you will find at least one recipe to try. Click here to get to the site.
Do you have any favorite ways to use puff pastry? Please share in the comment section below.
Happy "Puffing"!