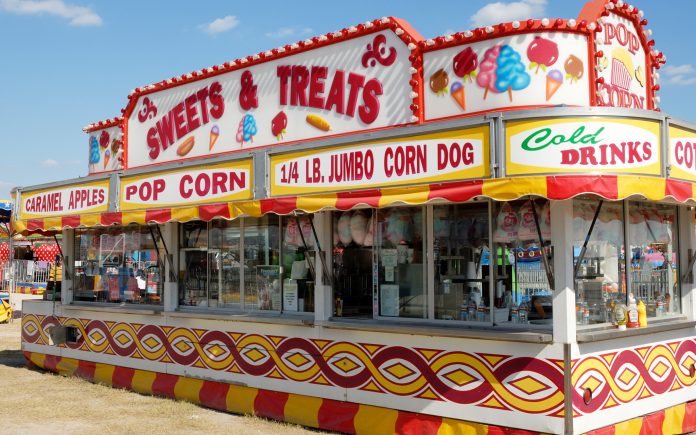 September in Texas means temperatures dropping into the low 90's, football and of course, the State Fair of Texas! The Texas State Fair happens to be the biggest state fair in the country with an annual attendance of 2,000,000! When I go to the fair, I like to see the animals, the shows, the automobiles and most importantly, feast on the food! I really don't even like corny dogs, but it's the first thing I want when I go to the fair. If you can't get to the fair this year, don't worry. I have found some fabulous ideas on how to have a fair right in your own backyard, or maybe you just want to eat some yummy fair food. Keep reading!
15 Ways to Bring the State Fair to Your Own Backyard
The Brit+Co website has all kinds of ideas for having a fair party at home. There are ideas for decorations, activities and food. You can go as plain or as fancy as you want and still have a party that everyone will enjoy. One of the most interesting recipes I noticed was for Chocolate Bacon Candy. I think it has the potential to be delicious! Maybe you'd rather mix up a batch of Cotton Candy Cupcakes or kettle corn. You can find all these recipes and more by clicking here.
Homemade State Fair Food
Man, there are some amazing fair-food recipes on this Taste of Home site! There are colored pictures of each recipe with detailed directions. For example, to make corny dogs, mix up some Jiffy cornbread, pour it into a tall Mason jar, and dip the hot dog into the jar to avoid the mess. There is a recipe for Maryland Corn Pops which is really a smaller version of Mexican Street Corn on a stick. Deep-fried cookies, tacos on a stick and Hot and Spicy Turkey Legs are some more of the sixty recipes on this site. Click here to see them all.
And There's More!
I thought I had found all the regular state fair food, and was about ready to stop my search, and then I found this Foodie Crush site. When I saw there was a recipe for Key Lime Pie on a Stick, I knew I had found the jackpot! I seriously will be making this in the very near future. There is also a recipe for funnel cake cupcakes which would give you the flavor of funnel cakes without the grease! Deep-fried chocolate chip cookie balls, Sweet and Salty Bourbon Cinnamon Pecan Apples + Chocolate Drizzle and California Walking Tacos are some more of the recipes you can find on this site. Click here and check it out!
The state fair only comes around once a year, but with these recipes, you can enjoy fair food all year long! Enjoy!