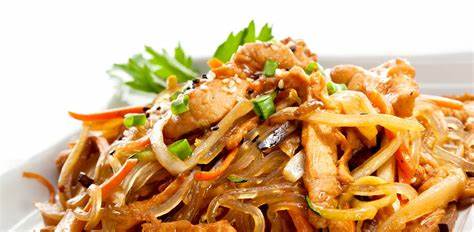 I was fortunate to grow up with Treva, my mother, who loved to cook. She didn't work outside of the home, so she had the luxury of time to prepare dinner at a more leisurely pace. Most days when I got home from school, there were delicious aromas wafting from the kitchen, and often freshly baked cookies just perfect for an afterschool snack.
Treva loved to try out new recipes, a trait she passed on to me. Even after I married and moved away, she would send me recipes, either handwritten or clipped from a magazine, as the day of Google, cooking blogs and YouTube had not yet arrived. (She would have loved "surfing" recipes I know!)
Her road to becoming a great cook certainly had some bumps along the way. As a new bride, she couldn't wait to use her "mixmaster". Unfortunately, things didn't quite go the way she hoped when she got her hand stuck in the beaters! Try as she might, she could not extricate her mangled hand, so she had to unplug the whole machine and run to her neighbor's house, mixmaster and all, for some help.
When the first Central Market opened in Austin, my sister took Mother to see it. My sister told me Treva was in a state of complete euphoria – ooh-ing and aah-ing down each aisle to the point that my sister wanted to be in another aisle. (Note to self- Keep your own ooh-ing and aah-ing to a minimum whenever you are at Central Market.)
One time my siblings and I were talking about our favorite food as kids. Ironically, we all said "Mother's Chop Suey". The funny thing was we each have different memories of how she made it. I've made my version many times for my own boys through the years. In fact, when I asked them what their favorite childhood dish was, they both said chop suey!
Here is my version of my mother's chop suey.
2 cups of chopped beef or chicken (You can use any cut of beef, but the more tender the cut, the better. You can use boneless skinless chicken breasts or thighs.)
2 T cooking oil
1 onion chopped into medium-sized pieces
1 cup sliced celery
1 can diced water chestnuts
3 T cornstarch
½ cup water or broth
1 T soy sauce
Chinese noodles and/or cooked rice
Heat oil in a large skillet and saute your chicken or beef until done.
Remove meat to another container, and add the onions and celery to the skillet. Cook until crisp-tender.
Return meat to the pan with the veggies and stir in the water chestnuts.
Mix the cornstarch, soy sauce and water or broth in a small bowl or measuring cup to make a slurry.
Pour the slurry into the meat mixture and heat on medium until the mixture thickens to your desired consistency.
Check for seasonings and adjust as needed. I usually add another T of soy sauce and maybe some broth to thin it just a little.
Serve on a bed of rice or Chinese noodles, or do as we do – rice on the bottom and crunchy noodles on the top!
*You can add other veggies such as mushrooms, peppers, broccoli or whatever suits your fancy. Just saute them with the onions and celery.
What was your favorite food growing up? Please share your memories. If you have the recipe, great, but if not, that's okay too.